Astra & Bucks New Uni conference 21 June
Posted on: 09/05/2023
Reflections on Key Educational Issues Initial Teacher Training Conference - open to all teacher trainees.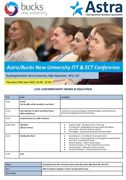 We are delighted to announce this free conference with Buckinghamshire New University at their High Wycombe campus on Wednesday 21 June from 12.30 to 4.30.
The afternoon will begin an overview of the workshops available. After the workshops there will be a Headteacher's Panel, with representatives from primary, secondary, independent and special schools. For more information on the agenda and workshops available and to register, please see this flyer.